Apple iPhone 7 and 7 Plus review
Apple iPhone 7 and 7 plus review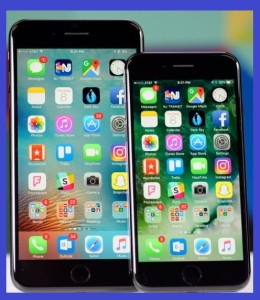 Apple iPhone 7 and 7 Plus review Salient feature and Specifications of Apple iPhone 7 Plus:-
Size: 5.5, inches
LED-backlit IPS LCD, capacitive touchscreen, 16M colors
OS: iOS 10
Processor: Quad-core 2.23 GHz
Internal Memory: 32/64/128 GB ROM, 3GB RAM
Network Connectivity: GSM / CDMA / HSPA / EVDO / LTE
Camera: 12 MP Camera with Flash, 5 MP Front Camera, Auto focus
 Apple iPhone 7 Plus is next generation gadgets. It has unique and extended features as compared to other brands and its own family of mobiles. Both Apple iPhone 7 and 7 Plus are most powerful phones ever made by the Apple Inc. This series will be remember for its battery timing and one of the best OS i.e. iOS 10. They are water resistant, have improved camera, display and battery timings as compared to its predecessor. Its dual camera is just like DSLR camera as per image clarity and pixel view. Its dimensions are 158.2 x 77.9 x 7.3 mm (6.23 x 3.07 x 0.29 in) whereas nano sim is used in it.
Why to purchase Apple iPhone 7 and 7 Plus:
The people hunting for a mobile having good iOS, display and camera then they should opt for Apple iPhone 7 or 7 Plus, because these are the features which are improved and enhanced in these versions.
Apple iPhone 7 and 7 Plus speed and processing power:
Perhaps another exiting feature of this series is faster speed and processing.  Quad-core 2.23 GHz processor fetch and executes instructions at a faster and swift rate. It may be a good gaming device as well.
Apple has sacrifice for headphone socket to increase the memory. As phone socket is missing in this set. So if you want to get extended memory and speed then don't worry about missing headphone socket in this model.
So here are its advantageous features which will compel you to buy iPhone:-
Best display and screen
Splendid camera
Best performing set
Water resistant

Price of Apple iPhone 7 & 7 plus:
Price always matter a lot it is not an economical set its price is on higher side, equivalent to a price of good bike in the Asia and Africa. But if you interested in good features, specifications and speed then there is no alternate other than Apple iPhone 7 and 7 Plus.
Price:   Apple iPhone 7 (32GB, Black) costs $649.00 and 60,000 in India.
             Apple iPhone 7 plus  (32GB, Black) costs $770.00 and 72,000 in India.
 for Difference between iPhone 7 plus and iPhone 6S plus specs comparison visit
Difference between iPhone 7 plus and iPhone 6S plus specs comparison